What to Bring to Daycare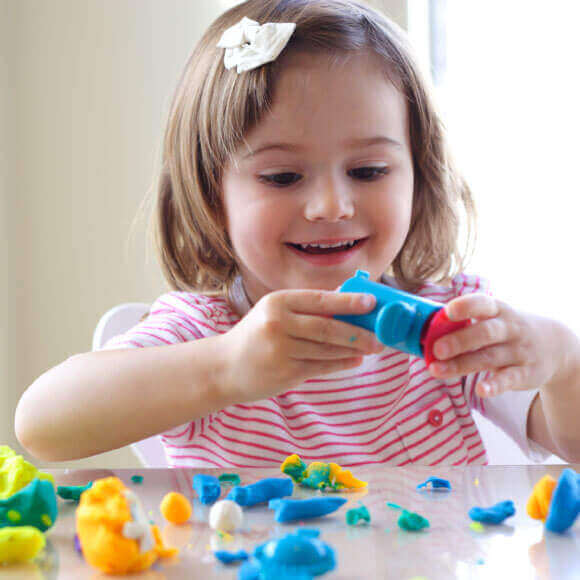 Kids' Kingdom wants to avoid precious items becoming lost or damaged. We ask that children do not bring their toys or other unnecessary belongings to the childcare center unless requested by your teacher. If your child has a very "special" toy that he/she would like to share with his/her classmates, please talk to your child's teacher and/or the director before bringing the toy to the daycare center. On "special" toy day, your child will be allowed to share information about his/her toy at a time specified by the teacher. After the sharing time is over, the toys will be placed in a safe area and returned to your child when they go home.
Clothing
Please mark your child's jackets, sweaters, etc. with his or her name. This will help minimize the confusion of similar clothing.
Your child should wear comfortable, washable clothing. Clothing should be appropriate for a variety of activities and easy movement.
Tennis shoes with socks are considered appropriate footwear. Tennis shoes aid in enjoyable and comfortable playtime for your child.
Shoes MUST be worn at all times at our preschool center. (This does not apply to Infants: 8 weeks - 1 year.)
Some footwear is inappropriate for the playground and other activities. There are also some types of footwear that are dangerous because children may easily slip or fall. The following footwear is unacceptable: cowboy boots, thong sandals, and flip-flops. These types of footwear will NOT be permitted.
Each child should bring ONE complete (shirt, pants, underwear, socks) set of extra clothing which will be left at the center. As the seasons/weather changes, it is the parents' responsibility to maintain the appropriate types of extra clothing. If your child is in an infant or toddler class, bring the clothes and diapers requested by your child's teacher. When your infant or toddler is enrolled, a letter from the teacher will be included in your parent packet explaining the required supplies for your child.